The Singapore river consist of 3 different quays. Each quays has its own uniqueness, from its design to its history. Your journey to each of this quays start right here.
Boat Quay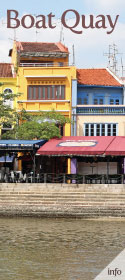 Evening time when the neon lights beckon, colourful facades and playful thematic restaurants and pubs turn Boat Quay into the River's most appealing pedestrian walk. Take the time to enjoy the intoxicating blend of cocktails and cosmopolitan array of mouth-watering cuisine, which will satisfy even the most finnicky eater.
Imagine that only a century ago, sun-tanned coolies and swaylos (water-hands) balanced heavy gunny-sacks of rice over their shoulders, with springy gangplanks under their feet, loading and unloading a bewildering plethora of produce. When Raffles signed the agreement securing the auspicious title of free port for Singapore, this instantly triggered a landslide of immigrants from neighbouring countries. Within six months, Boat Quay became a hothouse for trading, and in the 1860's, three quarters of all shipping businesses were done at Boat Quay. Here was the starting point of all that is Singapore today; affluent, hardworking and adamant on success.
Clarke Quay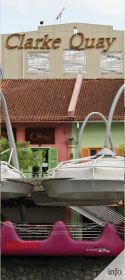 In the early 1980s, clarke quay was a noisy scene of "tongkangs" (bumboats) and "twakows" (lighters) jostling bow and stern for a place to dock And unload their cargoes. Lying near the mouth of the singapore river, the site of clarke quay was the centre of commerce during the late 19th century.
Today, Clarke Quay is still buzzing with life and activity. The waterfront godowns now play host to a colourful kaleidoscope of restaurants, wine bars, entertainment spots and retail shops. The bustling market atmosphere of bygone days comes alive amidst the rows of charming shophouses, and five-foot-way merchants.
The emotive quality to Clarke Quay could best be described as celebratory. In the day, you can immerse yourself in discovering refurbished warehouses packed with curios, gifts and speciality shops.
In the evening, Clarke Quay becomes a huge night bazaar where you can lose yourself in a maze of restaurants.
Clarke Quay is a delightful mix of modern and traditional. A reminder of its rich heritage is reflected in the vibrantly orchestrated concept. Their vision – an innovative approach which boldly reflects the heritage and charm of Clarke Quay.
Robertson Quay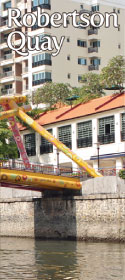 Robertson Quay is another area of interest. This undiscovered gem of the Singapore River will provide you with an interesting array of evening entertainment. Compare to Boat Quay, Robertson Quay is more laid-back, with an eclectic mix of international restaurants with alfresco dining, wine bars, arts houses and hotel cafes Each caters to a different type of crowd so it's well worth doing some exploring.
In the past, the merchants built offices, warehouses and jetties at Robertson Quay, to facilitate the loading and unloading of goods. Children would often stand and wave from the old Kampung houses along the banks. Many a times, they would take off their clothes and jump in for a cool afternoon swim.
Today, Robertson Quay has been transformed into a vibrant quarter with al fresco dining, arts and culture.